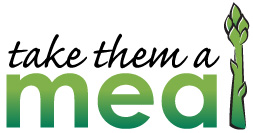 I came across this really neat website that is perfect for those of you that may find yourself in a situation of organizing meals for a family you may know.
TakeThemaMeal.com is a free service that allows you to create a meal schedule for a family in need. It's easy to do!  One person creates a profile for the family with instructions for drop off and dates needed.  Then you are provided a link that you can share so that others can sign up for the days they can prepare a meal for the family. No more time consuming phone calls!
You can read the TakeThemaMeal.com story here.
How neat is that?