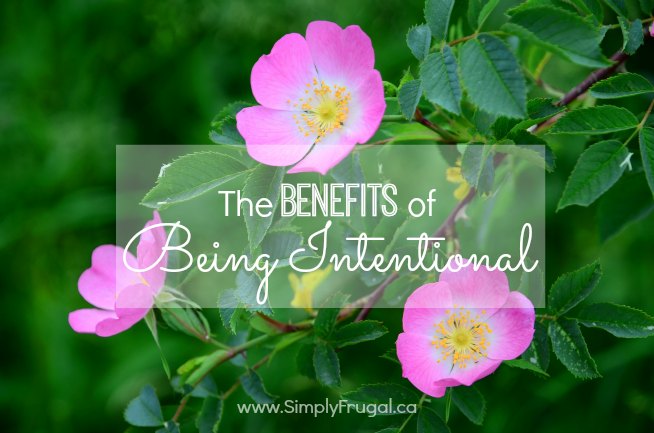 I'm sharing a bit of my life with you today.  I hope to do this more often, because Simply Frugal is my "voice" and behind my voice there is more than coupons, freebies and sales!
I've been doing a lot of thinking lately.  About life in general but also about being intentional.  Intentionality is something that has been lacking in my life to some degree for some time now.  Since becoming a mother just over two years ago, I've really noticed my need to be more intentional.  It's taken me getting to some of my lowest points in my life to come to the realization that things aren't just going to get better without some work and intentionality. Whining won't fix it either
Relationships, the website and other areas of my life have taken a hit.  I'm sad, because those things are important to me!  But I guess I needed the lesson of hitting bottom in order to wake up with a new zest for life.  While I'll always be a work in progress, I feel as though I know some of the steps I need to take at this moment in order to gain traction.
Being intentional has many benefits:
Better relationships
Better grip on finances
Better time management
The creation of things that have impact
More rest
More happiness
Here's how, I intend on implementing more intentionality into some areas of my life:
Relationships:  Speak kind and encouraging words to friends and family, especially my husband.  Less whining (especially in front of my husband.)
Finances: Create a budget and keep track of all spending and income, thus creating more intentional spending habits.
Time: Make to-do lists every day.  I flounder without a list and I've too often gone without a list and felt discouraged at the end of the day because I "didn't get anything done".
Menu planning: I plan on revamping my menu plan system to create something really easy to follow.  Stay tuned for details
Simply Frugal:  Along with the daily coupons, deals and freebies, I want to create helpful products for you that will help you be more intentional in your life.  I'll roll out more details as they become clearer to me.
Myself: Take time to read Take naps on Sunday afternoon if I feel like it.  Take time away from the website to enjoy a morning out and not feel guilty "a certain number of posts" aren't up.  Because it's only me behind Simply Frugal, I feel a lot of pressure to do all.the.things. all.the.time.
Mothering: Take the time to talk and snuggle with Sienna.  Also take the time needed to implement some discipline even if it isn't "convenient" for me at the time. (Does unruly behaviour ever come at a convenient time?)
Friends, how are you doing?  Are you struggling with any areas in your life?  Do you need to implement more intentionality into your life? How can I help?