My daughter tuned 10 (!!!) this year and really wanted a more grown up bedroom. One where she could just hang out on her own or with friends comfortably.
It was a project that took so long just to get started, but once we actually did start, it only took about a week to finish.
She knew she wanted to change her pink walls to gray walls. Her favourite colour is purple so I suggested doing her back wall a deep purple of some sort, but she was adamant that all her walls had to be gray.
So I headed to Pinterest to find inspiration. I was trying to find a warm gray that she loved and we finally settled on Classic Gray by Benjamin Moore. Her back wall is actually a darker gray, Revere Pewter by Benjamin Moore.
While I used colours from Benjamin Moore, I always buy any paint for a project from The Home Depot. I like their paint and I find it less expensive than Benjamin Moore paint.
I sort of wish the back wall was darker, but she loves it. Especially with the sprinkle decals that we bought.
Originally, I thought doing that feature wall in a fun peel and stick wallpaper would be a great way to add character to her room. But then I priced it out… Going that route was not in the budget. LOL. So I eventually thought to check out Etsy for wall decals. I found the fun sprinkle decals that she loved in gold. Waaay more budget friendly. (I'll give links and cost below for everything.)
The most expensive part of her room was her new bed. Everything is new there. The frame, mattress and bedding. We felt it was important to give her something that could last her for a very long time. (But I still got the deals!)
As for the other furniture, her dresser is a family antique that we've had forever. Her desk was a present for her birthday from her Oma and Grandpa, as was the nightstand.
I wanted to replace her curtains with some deep purple ones, but apparently she has an attachment to her navy ones. Haha. I'm, okay with that! This is a room made for her and not the design books!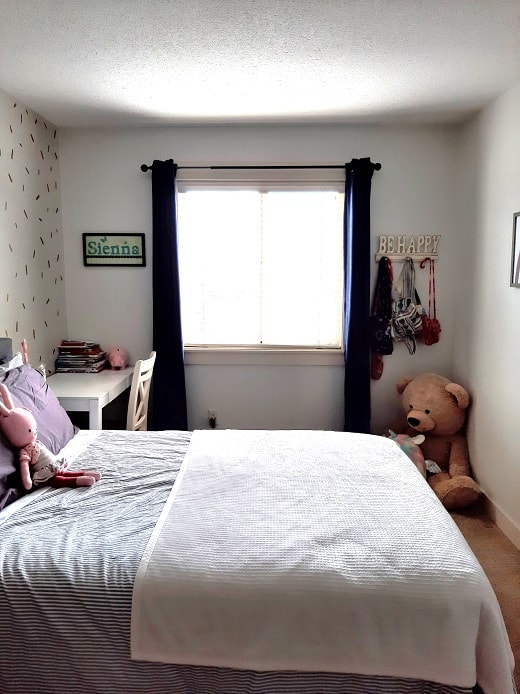 Cost Breakdown and Sources:
Paint: $100 for 2 gallons from The Home Depot
Paint colours: Benjamin Moore Classic Grey and Revere Pewter
Gold Sprinkle Decals: $25 for 279 decals
Desk: Ikea desk bought second hand for $50
Desk chair: Free, it's one we had around the house already
Nightstand: Made by a family member years ago, but gold knob was added. (It was a gift for my daughter so I'm not sure how much the knob was.)
Bed Frame: $303.31 for full size. (Not on sale anymore, but this is a solid bed!)
Mattress: $289.99
Duvet Cover Set: $64.99 
Purple Pillow Cases: $16.99
Sheets: $24.99 for full size white sheets
Mattress Protector: $27.99
Art work: All bought years ago from Homesense so I can't link it unfortunately.
Grand total: $903.26I still need to buy her a lamp and maybe something for over her bed, but that will happen one day.