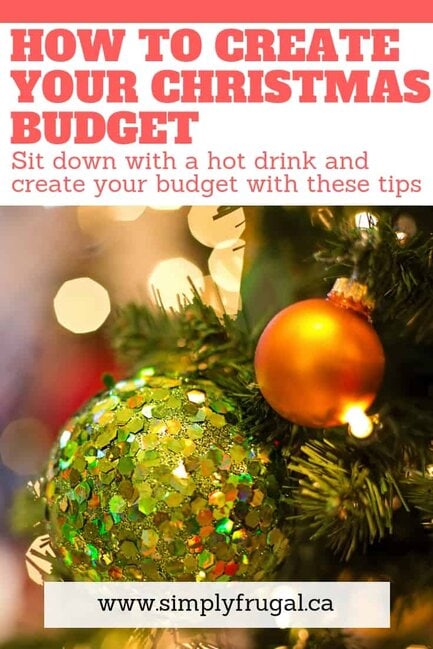 Are you excited to work your way to a more organized Christmas?  Today marks the first day and task in the 8 Weeks to a More Organized Christmas series that I hope will be super helpful to you!
Before we get started, I have a whole bunch of printables and checklists for you to print out to help you along:
Alright, on to the first task, an important one. 🙂 This week, if you haven't already, sit down with a hot cup of tea, coffee, hot chocolate… and create your holiday budget.  This is what you think your holiday season will cost and will allow you to put limits on your holiday spending to keep you from shopping regrets if a credit card bill comes your way!
Related: How to Have a Merry Christmas Without Spending a Dime
Here is an extensive list of things you should keep in mind when you create your holiday budget:
Gifts:
spouse
kids
parents
siblings
nieces/nephews
grandparents
neighbors
coworkers
friends
secret Santa gift exchanges
Activities/Events/Parties:
tickets
dining out
clothing
Food (not including regular groceries):
baking ingredients
dessert ingredients
Christmas eve
Christmas dinner/brunch
Boxing day
parties
Cards:
stamps
cards/envelopes
stationary for family newsletter
photos
Clothing:
outfits for photos
parties
Christmas day outfit
Decorations:
tree
lights
ornaments/candles/wreath/etc.
craft supplies
Giving:
Now, those suggestions were just a guideline.  Every family is different and has different needs.  My intent is to bring to mind every possible thing that could incur an expense during the holiday season.  I'm sure many of you won't even see half of these things on your list.   Also, in my mind, a more organized, more stress-free Christmas means not only less stuff, but a simpler season.
As for my family, we only buy gifts for immediate family and a couple of close friends.  My husband and I only exchange stockings. I make some homemade gifts as well as collect credits throughout the year so I can do some online shopping for "free". I stopped buying Christmas decorations a few years ago and will make do with what we have. The only outfits we'll buy (already bought for a steal at Gymboree!) are for Sienna and Adelyn since they're constantly growing.  We won't be hosting any parties, but I like to bring some baking along to parties we're invited to.  I intend on handing out Christmas cards to a few friends and the grandparents.  (You can find great deals on Christmas cards every year from various places!)
Enough about us.  🙂
If after writing down your expenses, you're scared of the number you see, you have two options:  Decrease your expenses or increase your income.
Decrease your expenses
To make a happy holiday season, you really don't need to spend a lot of money.  In fact, I'm daring to say, that being extravagant in your spending can be overwhelming not only for you, but the recipient as well.  As a child, one set of grandparents used to be quite extreme in their gift giving.  It was SO exciting, but I remember being quite overwhelmed with all the gifts once Christmas was over.
Gift giving is probably the easiest expense to cut back on.  If you have a large extended family, consider drawing names so each member is only responsible for one gift.  Or do what our family does and only give gifts to the children.  My parents have also started to set a $20 limit on each other in recent years.  Jesse and I exchange stockings.
Setting a price limit on each gift will allow you to shop within that budget.  If your limit on sister Sue is $30, then that $50 purse is off limits.
It's possible to decrease your food budget too by shopping the sales and limiting the baking and Christmas dishes you prepare.
When it comes to decorations, why not create some memories by making some homemade decorations?  (I'll be featuring some ideas in a few weeks)  Or read my Fond, Frugal Christmas Memory post for a fun Christmas tree idea.
Increase your Income
If decreasing your holiday expenses is not an option, then consider increasing your income.  Many retailers hire for the holiday season (and may offer an employee discount!).
A couple of other ideas are to:
sell extra baking to those that may not have much time to create their own.
sell unwanted household items for cash (make room for new stuff too!)
What are your tips for staying on budget at Christmas time?
Sign up for the 8 Weeks to a More Organized Christmas newsletter to receive a FREE Christmas Dinner Checklist!  This checklist is quite detailed and will help you remember all the details needed for a memory filled dinner with family and friends. You'll also receive a weekly email with each week's "task".