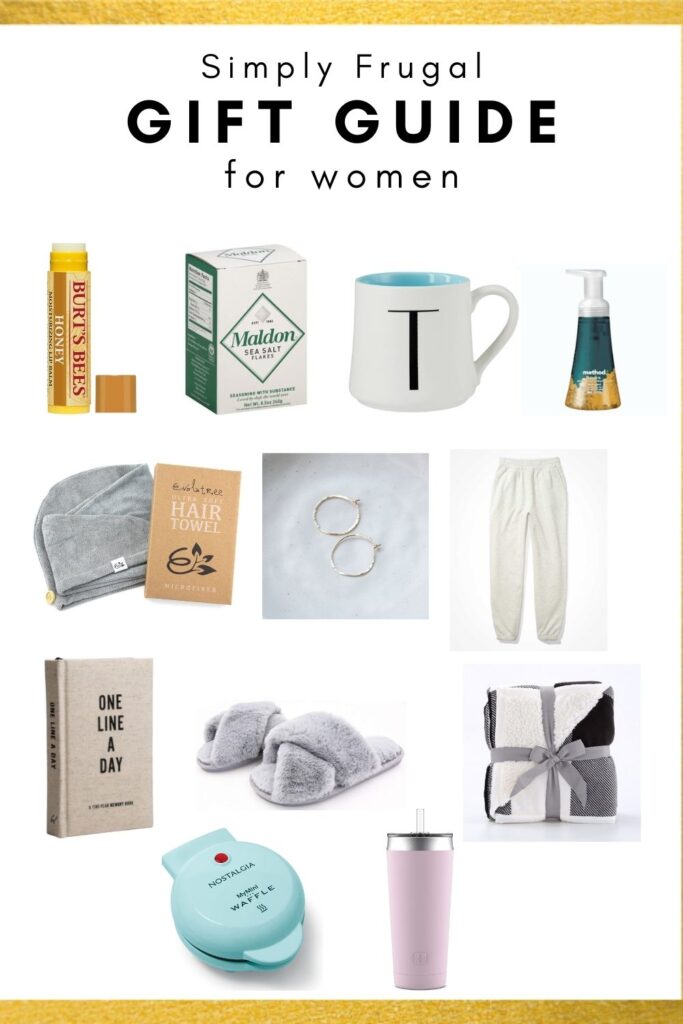 Frugal Gift Ideas for Women
Since the focus here at Simply Frugal is, of course, frugality, I'm going to break down the gift guides into various price points. Sound good?
All right. Let's get started with Frugal Gift Ideas for women! I happen to think shopping for women is one of the easiest categories to shop. However, sometimes it's really nice to have some unique and different ideas to think about!
So go ahead and take a look or pass this on to your significant other for some hints. I'm sure you will find thoughtful gifts at every price point.
Gifts Under $5
Sally Hansen Nail Polish – A new nail colour is always a welcomed gift!
Burt's Bees Lip Balm – With 100% natural ingredients and so many different flavours, your recipient is sure to appreciate a new lip balm!
SmartSweets – Who says treats have to be bad for you? SmartSweets candy is perfect for any of the ladies on your list.
Method Hand Soap – A nice holiday scented hand soap is sure to make the holidays more festive.
The Ordinary 100% Plant-Derived Hemi-Squalane – This is to moisturize hair and skin!
Cozy Gripper Socks – I wear these as slippers and I love them and I recommend them all the time!
Gifts under $10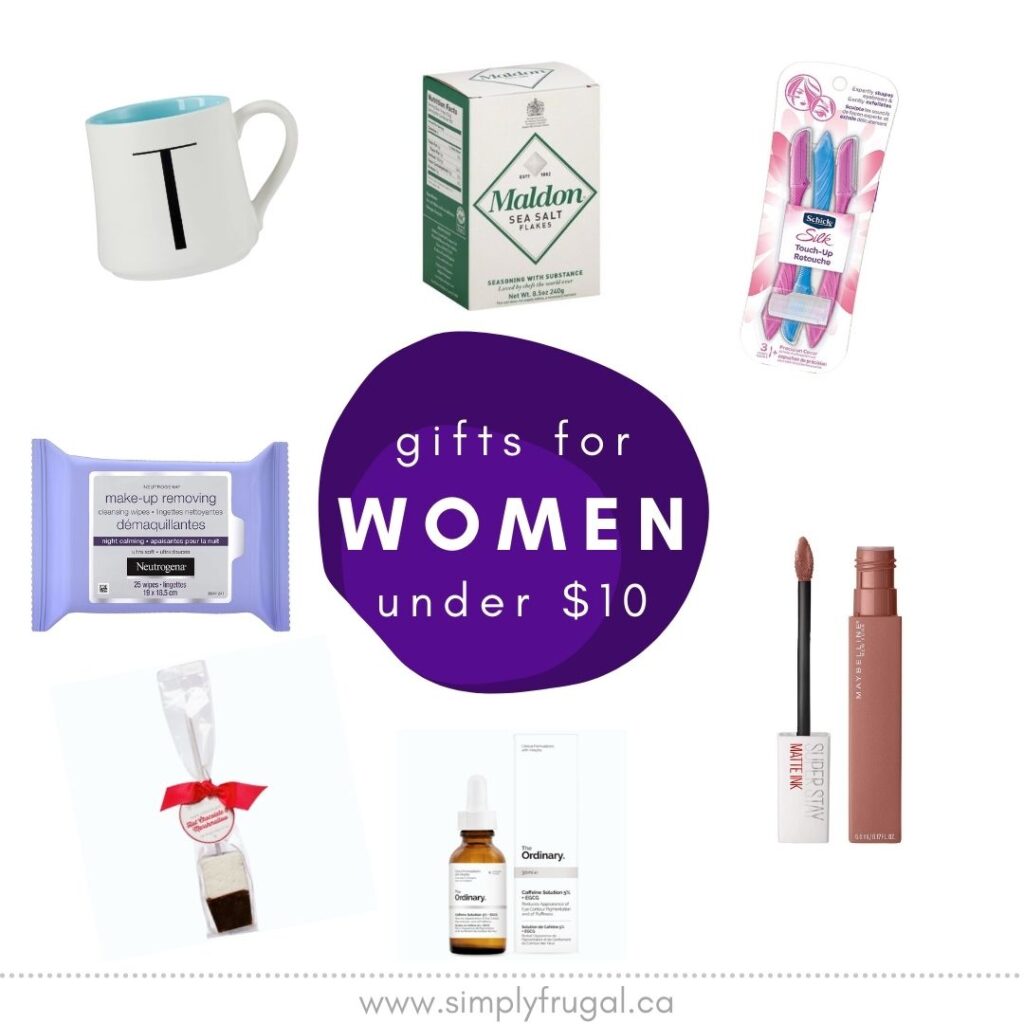 Neutrogena Makeup Wipes – These are fantastic for those lazier evenings, but when the makeup still has to come off.
Maybelline Superstay Liquid Lipstick – This lipstick can outlast anything and will never transfer, so you don't have to worry about getting lipstick on straws, cheeks, or clothes. Seductress is a great everyday color.
Dainty Hair Clips – These would add a very nice sparkle.
The Ordinary Moisturizer – I love The Ordinary products and this moisturizer looks like it will offer great moisturization for a lot of skin types.
Planner Stickers – Perfect for the person who loves their planner!
Maldon Sea Salt – If you are shopping for a foodie, Maldon Sea Salt Flakes are sure to make them excited to be in the kitchen again.
Schick Facial Razor – These seem to be one of the popular beauty items these days. A great budget option instead of the salon.
The Ordinary Caffeine Solution – This is a must have for moms that seem to always have tired eyes!
Hair Finishing Stick – This is so neat! It looks like a mascara wand, but it actually holds hair gel to tame flyaway hair!
Dark Chocolate Hot Chocolate Marshmallow Stir Stick – Anything chocolate is always a good idea.
Gifts under $25
Apple Watch Band – A new Apple watch band is a fun idea. There are just so many color options!
Plaid Blanket Scarf – Freshen up their wardrobe with this classic staple.
Monogram Mug – It's always fun to have something with a personalized touch!
Knotted Hair Bands – I have seen headbands like these all over Instagram! These ones come as a set of 8.
Microfiber Hair Towel – Dry hair in less the time!
Cookie Scoop – These are a game changer for baking!
Colleen Hoover Book – This is her latest book for the Colleen Hoover fan.
Winter Woodland Letter Writing Set – Perfect for the letter writing friend!
One Line a Day Journal – I love the concept of this journal! It's a great way too look back on past years!
Satin Pillow Cases – Your recipient will love waking up with less messy hair!
Mini Waffle Maker – This small but mighty machine busts out some really good waffles. Also makes great hashbrowns and paninis.
Baby Nessie Tea Infuser – This is the cutest tea infuser that I ever did see! It comes in a pack of three so you could separate and give to multiple people.
Shakespeare Insults poster – This would make for a great conversation piece in the home of someone who loves Shakespeare!
Plush Velvet Throw – I personally own three of these and they are so good!
Fur Slippers – Cozy for the win!
Laneige Lip Sleeping Mask – This would be great for those dry, cold winters.
Wild Flicker Soy Candle – A festive smelling candle is always so nice.
Gifts under $50
Boyfriend Joggers – These joggers from American Eagle have great reviews. Who doesn't need a new pair of joggers anyways? 😉
Hammered Hoop Earrings – These look gorgeous! Also available in silver.
Belt Bag – This looks like a fantastic dupe for the Lululemon belt bag that is $80!
Faux Fur Hot Water Bottle – Extra cozy for the winter months.
Slippers – These are good dupes for UGG slippers.
Diamond Painting Storage Case – This is a perfect gift for someone that loves to do diamond painting!
Color Block Sweater – Okay, this is cute!
Saje Peppermint Halo – This one is going on my wish list! I'm prone to headaches.
Long Cardigan with pockets – Yet another classic wardrobe essential that is all around this year. The pockets are key!
Lasagna Trio Pan – Make up to three different recipes in one pan!
Sleep Set – A new pair of pajamas is always a wonderful thing!
Sweater – I just love the little pleats on this sweater!
Ello Beacon Insulated Mug – This one has great ratings, looks great and keeps beverages hot or cold!
Wireless Bluetooth Headphones – These headphones have a high rating for comfort and sound quality.
Packing Cubes – Let's just say, I will always travel with packing cubes now. They are a game changer!
Shacket – Perfect wardrobe staple for the one who likes to be on trend.
Cozy pullover – Yes please.
Label Maker – For the one that loves to organize things with labels!
Oversized Sherpa Half-Zip Sweatshirt – This is just a gift list for me now…but for real, if she likes cozy this looks divine.
Gifts over $50
Kindle – I think I've owed my Kindle for at least 5 years now. It's still going strong and I still love it! Highly recommend!
Thermal Laminator – Perfect for the person who loves to use printables or wants to make frequently used papers more durable.
Craftsy Membership – If you know a crafter, they may love a membership to Craftsy to hone their skills! You can also purchase individual classes.
And that wraps up the frugal gift ideas for women for 2022! Stay tuned for more gift guides for men, teens, entire families and more!