(Note: The links in this post are affiliate links. Read the disclosure policy here.)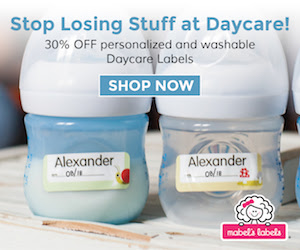 Starting today, January 28, take 30% off daycare labels at Mabel's Labels! Through February 3rd, enjoy savings on the Daycare Label Pack, Baby Bottle Labels and Preschool Shoe Labels.
Daycare labels are the best way to get organized for sending your little one off to daycare for the first time. These baby labels are waterproof, dishwasher safe and laundry safe and are perfect for labeling baby bottles, toddler cups, bibs, clothes, shoes and much more. Avoid the germy mix ups and lost items by using these daycare labels on all of your child's things. The label pack includes over 50 labels perfect for a variety of belongings.