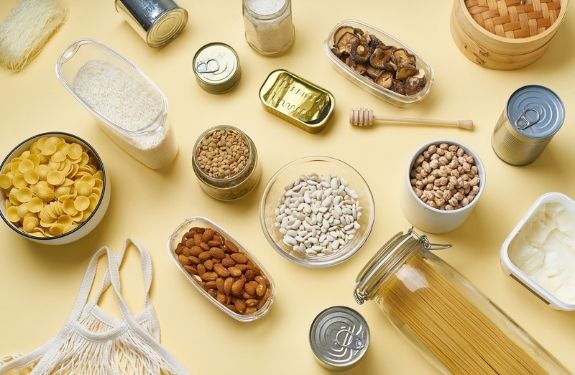 Must Have Basic Pantry Staples
Having a well-stocked pantry can save you from unnecessary trips to the grocery store and eating out too often. Since I'm also cleaning out our kitchen cupboards this week, I thought I'd put together a basic pantry staples list that would be useful to have on hand at all times!
Stocking your kitchen with these basic pantry staples, will ensure you have your family's favorite meal ingredients on hand. It also means you will almost always have something on hand to create a simple meal for busy nights or days when you don't feel like cooking much.
These are basic, but versatile staples that are used often. They are also usually quite inexpensive and have a long shelf life if stored properly in the pantry, refrigerator, or freezer.
Below my list, you'll find a Pantry Inventory printable with blank spaces that you can fill in to suit your own needs.  I hope you like it!
Basic Spices
Salt
Black pepper
Garlic powder
Onion powder
Ginger powder
Cumin
Chili Powder
Cinnamon
Oregano
Basil
Parsley
Vegetable/Chicken/Beef bouillon (Better Than Bouillon is great!)
Cocoa powder
Dried Goods
Rice
Pasta
Oats: Quick oats, rolled oats
Sugar: white, brown, confectioners (powdered)
Flours: all purpose, whole wheat
Baking powder
Baking soda
Chocolate chips/raisins
Yeast
Cornmeal
Coffee, tea
Cornstarch
Nuts and seeds
Dried beans
Lentils
Canned Goods
Tomatoes: paste, sauce, diced, crushed
Beans: black, garbanzo, kidney, white
Canned fruit
Pickles
Pasta sauce
Canned tuna, salmon, chicken
Jams and preserves
Oils, Vinegars and Sauces
Oils: canola or vegetable oil, olive oil, sesame oil
Vinegars: apple cider, white, red wine, rice, balsamic
Ketchup
Mustard
Mayonnaise
Soy sauce
Barbeque sauce
Maple syrup
Peanut butter
Honey
Perishable Items
Breads: bagels, buns, tortillas
Dairy: milk, butter, cheese, yogurt
Eggs
Fresh fruit and vegetables
Frozen fruit and vegetables
Onions and garlic
Meat, fish and poultry
Is there anything you would add to the basic pantry staples list? Let me know in the comments below!
Click on the image above to print your own Pantry Inventory list!
Looking for even more kitchen help especially as life gets busy? Check out this gorgeous MEAL PLANNER – with food inventory worksheets, monthly, weekly + daily meal planning worksheets, meal brainstorming worksheets and more!