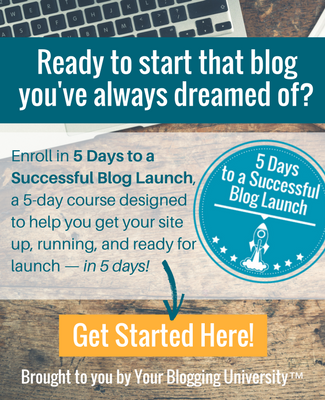 You guys, I'm just so thrilled about this! Crystal Paine of Money Saving Mom, has just launched a new website called Your Blogging Mentor. Over the years, I have gained so many new tips and tricks in regards to blogging and running a business from Crystal that it's no surprise to me that this is a new endeavor of hers. She's always so willing to share everything she's learned through her websites and even social media accounts.
Her new website, Your Blogging Mentor is pretty exciting in and of itself, but she's actually also launched Your Blogging University™, the first-ever customizable blogging education program built for you—by you!
What is Your Blogging University™?
YBU™ is a one-of-a-kind, customizable learning system designed to give you control over your blogging education. Crystal and her team have worked tirelessly over months to bring to you this state-of-the-art platform (not to mention the YEARS of experience that went into creating course content!) in order to allow you to access the most up-to-date blogging strategies and how-to's in a way that fits your goals and your budget.
Who is Your Blogging University™ for?
They've created YBU™ to meet the needs of bloggers of all different levels. Their first courses to be launched will be specifically geared toward prospective and beginner level bloggers—those who don't have a blog yet or who have a blog, but have not yet monetized it.
Introducing 5 Days to a Successful Blog Launch, the first YBU™ course!
5 Days to a Successful Blog Launch is a 5-day course designed to help beginner bloggers get their blogs up, running, and ready for launch — in 5 days!
When students enroll in 5 Days to a Successful Blog Launch, they'll get:
5 comprehensive daily lessons covering the essential blog launch tips, to-do's, and strategies including information on hosting providers, blogging platforms, email list providers, content creation, social media and more!

Actionable daily assignments to keep you on the fast track to your blog launch goals!

Additional links and resources for each day, if you'd like to dig deeper on a subject.

Easy-to-use glossaries to ensure you understand the lessons.

Printable blog launch checklist to walk you step-by-step through the blog launch process.

Bonus access to my How to Make a Full-Time Income from Home series videos for extra encouragement and tips!

FREE access to my 10 Ways to Make Money with your Blog Cheat Sheet to help you reach your money-making goals!

FREE access to the YBU™ learning platform, a custom-built online hub made exclusively for YBU™ students to help them manage their university, add new courses, receive YBU™ updates, and more!
5 Days to a Successful Blog Launch is currently priced at $17, but for a short time they will be offering this course for only $7!!
Talk about a crazy good price for something that is coming from Crystal!
So, if you've been wanting to start your own successful blog, but get stuck with the basics, this course is for you! But hurry, it's only $7.00 through May 23, 2017.
(Note: The links in this post are affiliate links. Read the disclosure policy here. Thank you for your support!)