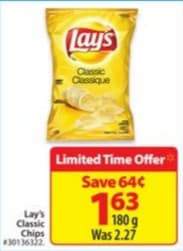 Lay's classic chips 180g are on sale this week at Walmart for just $1.63 a bag. If you printed the coupon for $1 off the purchase of three Lay's chips, you can use this coupon and pay just $1.30 a bag!
If you did not yet print the coupon it's still available right here.
Sale ends August 17, 2016.