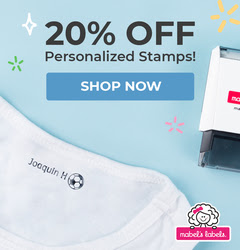 You only have 2 DAYS LEFT to save 20% off ALL stamp products at Mabel's Labels! This sale ends Friday, February 14. Here's what they have available:
CUSTOM CLOTHING STAMP: Customized fabric stamp that's preloaded with ink so you can quickly label clothing, socks, towels, and more.
TEACHER STAMP: A self-inking stamp that's a fun, fast way for teachers to give their student's work a personalized touch!
PERSONALIZED BOOK STAMP: A self-inking, personalized stamp to idenitfy the books in your home or school library so they'll always get returned.
RETURN ADDRESS STAMP: A self-inking stamp that's a fun and fast way to address mail with extra charm.
I LOVE Mabel's Labels products! While I haven't use any of their stamps yet (They seem amazing!), I have been using their labels for years. In fact, I brought some along on our recent trip to Florida because I knew my girls would be buying souvenirs exactly that same as their cousins!
Shop online at Mabel's Labels to get 20% off and free shipping!