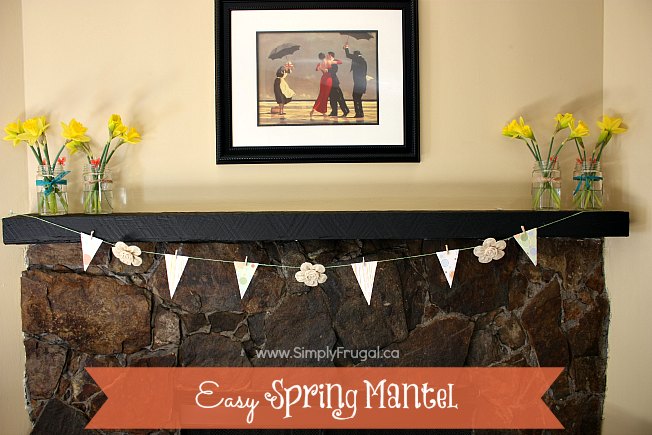 I've been meaning to show you how I decorated our fireplace mantel for spring this year.  Not because I think it's wonderful, but because I actually spent a little bit of time into making our home feel more homey.  You see, I've been struggling with a bit of discontentment when it comes to our current living situation.  So, aside from Christmas time, I haven't decorated the mantle in quite a few years.  I figured, why decorate something I don't love?  Why show this small, cramped, old place, that we call home, any love when I don't feel the love for it?
Well, wouldn't you know it, but I had a bit of an "ah ha" moment when I realized that this is the place we call home and we do make memories here.  This is also the first place my daughter has known as her home.  My home doesn't dictate who I am as a person so when I succumb to discontentment in my circumstances, I'm creating an unhappy person on the inside.
This mantel project will hold a place in my heart forever as the project that "kicked some sense" into me.  I have nothing for want.  My needs are well taken care of.  So each time I look at the banner, I will be reminded of all that I have to be happy for. And remember that I'm a work in progress and that one day (or starting today), my circumstances won't decide who I am as a person.  So I will welcome friends and family into my home without feeling ashamed.
Friends, please tell my you have the same sort of struggles?
Now, in case you"re still with me to find out how I made the paper banner, I'll tell you how!
First of all I chose a few pieces of scrapbook paper that coordinated and were spring-like in colour.  Next, I folded the papers in half and free-handed with a pair of scissors a pendant shape.  this is so I could drape the paper pieces over a piece of twine.
Finally, I added mini clothes pins to each paper and added some burlap flowers I picked up at Michaels in the dollar bins.  Simple, right?  The jars holding the daffodils are from Target and the ribbons tied around the jars are also from Michaels.
How have you shown love to your home lately?