This final project for the baby's room was definitely the most time consuming.  But I think it's the cutest!  It has a more boyish feel, but I don't think a baby girl will care much!  (We don't know the gender of this little one)
Using fishing line, an embroidery hoop, card stock in 5 colours, and tape, here's how I made the mobile:
I drew (freehand) an outline of a hot air balloon on a scrap piece of paper, then cut it out.
I then traced my stencil on the card stock (I used 5 different colours and managed to get 6 balloons from one 12×12 sheet of paper, so a total of 30 paper balloons)
Next I folded each of the 30 balloons in half (see image below)
I placed 4 pieces of tape on each folded side of the balloon. (see second image below)
I started taping each individual balloon together to create the 3D balloon you see in the final project.
Once the 6 balloons were all assembled, I threaded a piece of fishing line through the top of each balloon, then attached the fishing line to the embroidery hoop.
To hang the finished project, we screwed a hook into the ceiling and added more fishing line to the embroidery hoop so it could hang from the hook.
The most time consuming part was tracing and cutting out each balloon.  I used 5 different colours to coordinate with the curtains I made, but you could use as many colours as you'd like.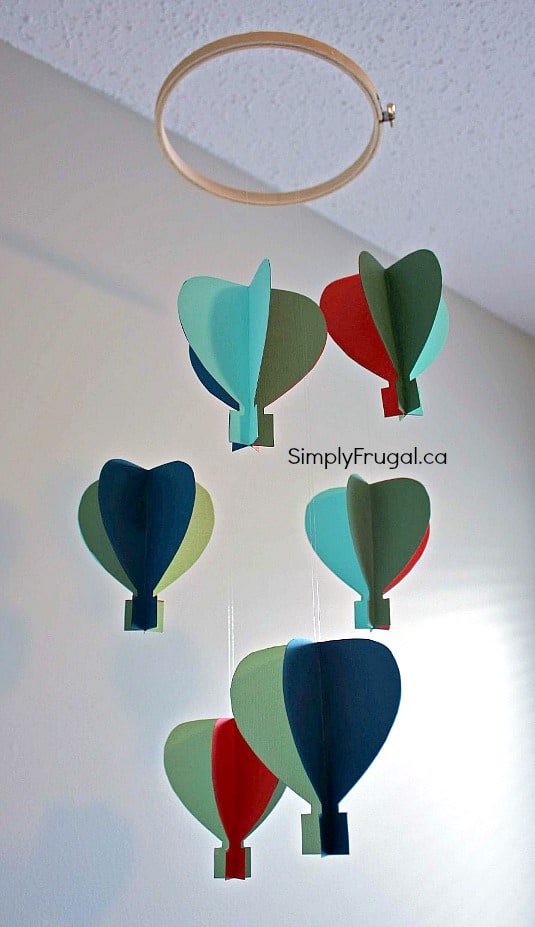 I hope you enjoyed my projects!  I had a lot of fun making them since I don't often have time for crafty things 🙂  I'm just waiting on something I ordered online from Etsy to come in, and once it does, I'll be showing you the entire room all together!
Here are the other two art projects I completed for the nursery: