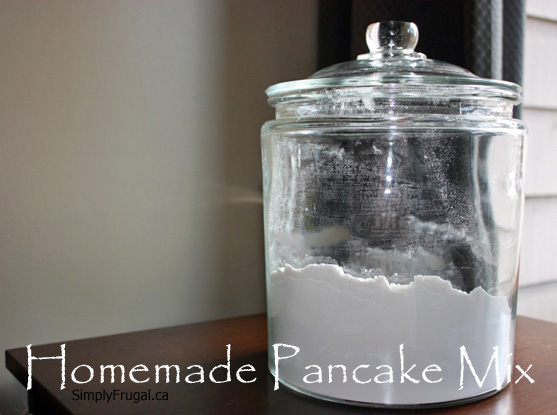 Welcome to March Mixes!  Where you'll find all sorts of recipes for DIY mixes all month long.
Since the weekend begins tomorrow, I thought it would be nice if I shared a recipe for pancake mix, since I personally, think pancakes make for a delicious weekend breakfast!  So go ahead and make up the recipe below, cook a batch, then save the rest of the mix for another day!
Homemade Pancake Mix
Ingredients
4

cups

flour

can substitute 1 cup whole wheat flour for 1 cup all-purpose flour

3

tablespoons

baking powder

2

teaspoons

baking soda

1

teaspoon

salt

3

tablespoons

sugar

1/2

tablespoon

cinnamon

optional
Instructions
Combine all ingredients in a bowl. Place and store in an air-tight container to use within 3 months.
To make pancakes:
In a bowl, combine 1 cup of dry pancake mix, 1 egg, 1 cup of milk, 1 teaspoon oil or melted butter, and 1 teaspoon vanilla extract. Heat pan over medium heat and lightly grease with butter. Pour 1/4 cup of pancake batter in the pan. Once the batter has began to bubble significantly, carefully flip the pancake. Cook for another 1-2 minutes or until the second side is golden brown.

Note: Will make approximately 8 pancakes.